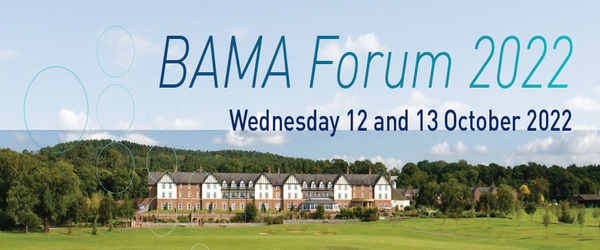 The Forum
Day 1 of the Forum will start at 12pm with registration and lunch, ending at approximately 5.00pm followed by a short AGM for members only. Day 2 will begin at 9.30am with an interactive session and is expected to close at 2.00pm with a buffet lunch. The dates of these will be confirmed shortly. The programme is currently being finalised and you will be notified of the final conference agenda.
Awards Dinner
BAMA's Award Dinner will take place on the evening of Day 1 and will start at 6:30pm. The BAMA Awards ceremony is the perfect opportunity to highlight many of the UK Industry's success stories to guests and BAMA members, sharing best practice and recognising innovative skills across the industry. We will also have a guest speaker to entertain us after dinner.
Fees
We have arranged a special members' rate with the venue. The total cost of £260.00+VAT will include:
Please note: Accommodation at the Forum venue is limited. Once all places have been filled accommodation will need to be sourced by the attendee. For any queries please contact the BAMA office prior to booking your place at the event.
Non-members may not attend the conference but are encouraged to attend the awards dinner. at the invitation of a BAMA member. The cost for dinner guests is £80.00+VAT, or dinner and accommodation at the rate of £260.00+VAT.

The (Members Only) Award Entries are now open! The closing date for entries is 31st August 2022. The Award Entry Form can be downloaded HERE. If you would like to enter the BAMA Awards but are not yet a member, you must apply for membership of the Association first. With £500 up for grabs for the Winners and £250 for Runners-Up, you really should consider highlighting your recent company innovations, training programmes, sustainability initiatives. The BAMA Awards will bring public recognition for your brand, company or team.
Here are some things to consider for each category
Aerosol of the Year – a new aerosol product made in the UK but sold ANYWHERE in the world.
Aerosol Packaging - aerosol PACKAGING made in the UK but sold ANYWHERE in the world. Can include the can/actuator/valve/new branding or update in design etc.
Sustainability – product or company related – CSR, reduction in carbon footprint – have you been innovative with your logistics and manufacturing programmes?
Process Safety and Training – product or company related. Look at the training processes and new systems you have in place. Highlight your apprenticeship schemes and HR initiatives. Think of staff involvement and business safety in addition to the manufacturing element.
Aerosol in Action photography - Member companies are welcome to submit a relevant image of a product or process which illustrates the theme of "Aerosol in Action".
Location
---
Carden Park, Cheshire
Dates
---
From: 12 October 2022, 12:00
To: 13 October 2022, 14:00